You probably can't even count the amount of times you've uttered the phrase "there's an app for that." And normally that phrase is met with excitement about the new discovery. However, there are some straight-up redonkulous apps in circulation. And we have a responsibility to bring those apps to the public's attention.
Birth Buddy: An app to estimate when you'll give birth while you're in labor. Because that's what every woman wants to do while trying to deliver a baby: take out her iPhone, open the birth buddy app and track how it's going down in baby town. The app even has a feature that lets you email curious family members who don't understand the concept of "TMI."
SimStapler: An app that lets you simulate using a stapler. That's it. Have you ever just had the urge to staple but without any means to an actual stapler? You're in luck.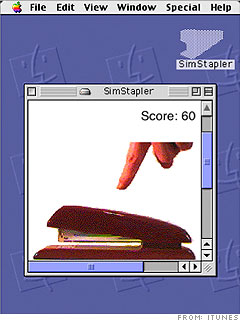 Hold The Button: You just hold a button. For as long as you can… Is it harder than it sounds? Absolutely not. The real joke here is that it has the ability to measure in monthly increments.

Airport Sounds: This app literally just simulates airport sounds, because the airport is such a relaxing place to be. We suppose it might be nice to have airport sounds in the background while you play Hold The Button.
Cry Translator: Your guess is as good as ours here. All you need is a screaming baby and 10 seconds. Let's see, how does the expression go… Even a broken clock is right twice a day.